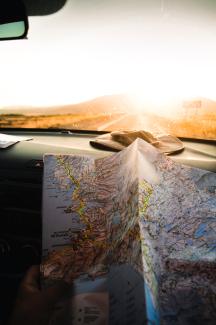 You're in the Driver's Seat—But Where are You Going?
Some would think I was crazy: This past weekend, I drove from North Carolina to Connecticut and after a day, got back in the car and drove back. I knew my options: I could have flown, rented a car, or taken a train. Even in the car, I had options of several different GPS systems and different routes. At first, I messed up. Then I found the right option for me.
There were so many options. The same holds true for investing and saving…indeed there are way more options for what someone can do with their money than there have ever been. There are options on the internet, options that make investing feel like a game, options that are advertised on TV…all of which promote themselves relentlessly, all claiming to be better than the others. Even within those services, there are a myriad of options. Which to choose? Where to begin? Or is it so daunting that it's better to wait for another day to begin?
My requirements for my trip were particular: it was for my father's memorial service and so I could not be late and I could not miss it. The news was full of horror stories when it came to flying. It was difficult to get a rental car and more expensive than I'd ever seen. Plus, the nearest airport was 2 hours away. Driving became a more appealing option. The next option was the route and guidance.
No matter where you go, there you are. That's a great old saying. If you're not paying attention, you could wind up someplace you really don't want to be. On the way up, I relied on the GPS and it was awful. I spent hours sitting in traffic and stayed in a hotel that I didn't want to be in. I'm old enough that I still own a road atlas in printed form. At one rest area, I pulled it out and looked at it on the trunk of my car. The kids from the vehicle next to me could not believe I had all of the Google Maps printed in one place. My research helped me to understand where the GPS wanted to take me. On the way home, I chose my route and it was a much better ride. The GPS knew where traffic was snarled and re-routed. It worked out much better for me.
A smart investor is going to research their options, get opinions and ask questions. What's most comfortable for you? Does it really cost more or less to work with a financial planner than it does to go it alone? What are the benefits, the pros and the cons? What if you want a hybrid, such as I did with using my maps and GPS? Like the GPS that knew the traffic snarls, maybe you'd like to choose your own route but need some guidance for life's traffic snarls and unexpected speed bumps. You should know that's absolutely ok.
You can and should ask those questions. You should feel comfortable with the answers. Your road to retirement is yours to choose. When I work with clients, I want to understand their journey. I'm independent and consider myself a fiduciary with every client because I never want to be beholden to promote a particular product or service. That means that we can talk about services, products, and fees that work for you as a person, rather than trying to fit you into a prepackaged arrangement.
When I chose my travel, I wanted a certain level of freedom and control, and I wanted to minimize stress. Shouldn't you do the same with your journey? As I planned my trip, I saw a lot of advertising. Everyone promised a smooth ride. When it comes to investing, there's a lot that's advertised as "free." Is that the way to go? It turns out that nothing is free. TV shows that talk about investing are as reliant on advertisers and selling airtime as a sitcom. It's their job to keep people engaged. Same with magazines and websites. We need to be as careful of the source as anything else. What about those websites that tout the free investing? Well, they're not really free – it's just that the investor doesn't directly see the impact on their investments-but trust me, those websites and apps and office buildings and staff do not pay for themselves and none of them are running charities.
There are a lot of options. If you'd like to work with a personal guide or even if you'd just like to do some research to find out what's right for you, please be in touch by phone at 704-459-4646 or email frank.summers@ceterainvestors.com