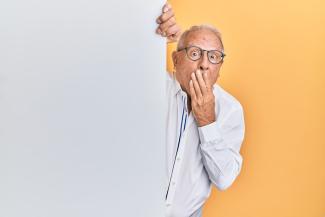 Why Long-Term Care Planning Should Not Start With Buying Insurance
Bette Davis said "old age ain't for sissies," and many of us of a certain age are realizing how right Bette was. Even so, many people say their older decades are some of the happiest of their lives. In large part, it comes down to how we approach it.
November is Long Term Care Awareness Month, which is a topic we will hear discussed more and more as our population ages. The number of Americans ages 65 and older is projected to nearly double by 2060. You might be surprised when I say that long term care planning should not begin with a discussion about insurance. 
Long term care will be a reality for many of us. 52% of us will experience some form of long-term care event. While we might immediately envision nursing home care or assisted living, many people will have care in their home from a spouse or loved one, or from hired help. Many people mistakenly believe Medicare provides some level of long-term care coverage. It does not. 80% of people needing care required out-of-pocket expenses, and this kind of care is expensive. So why aren't we talking about insurance yet? Read on, but first…
Men, don't think this doesn't apply to you. Statistically, most people in nursing or convalescent care are women. In most of those cases, those women were married to men who were older than they and required care that the woman provided. When he passed, there may have been no one to provide that care for her. The care requirement didn't happen because she is a woman, it happened because her spouse was older and passed away first. For gay and lesbian couples, it is still a reality that most likely, one spouse will require care. The other will provide it, and when it's time for the caregiver to become the care recipient, their spouse will not be there to provide it.
OK, so we've said that the population of older people will nearly double, that care is expensive and will affect at least half of us. We also know that medical science is advancing and helping keep people alive longer. So why haven't I jumped in with a discussion about insurance yet? Because there are a number of different ways to pay for long term care, and because planning for long-term care needs to be in the context of overall retirement. It starts with the question "How do you want to live?" What do you want your retirement to look like, is there someone else to consider, etc. Retirement can last decades, whereas most long-term care events last about 2 years with the vast majority ending by year 7 or 8. Planning needs to be holistic in terms of how you'd like your retirement years to be. 
Some want to age in place at home.  For LGBTQ+ people in particular, concerns about discrimination are real and valid and unfortunately, founded in the real experiences others have faced. Would you prefer to move into a Continuing Care Retirement Community (CCRC)? If you remain in your home (a concept called aging-in-place), there are many things that you do today to maintain it. Who will do those things? 
Then it moves into money questions: Do you want to leave your money to certain people, or to a charity or non-profit? Or would you rather spend everything you have for your own care? That's a fair decision, by the way. No judgement here. Some people would rather spend every penny they have living the way they choose and other people prioritize leaving funds to others. Both are equally valid, personal decisions. What if you're living on a fixed income? 
When you have thought through the questions that I've mentioned, then you can really form a long-term care ¬plan that will work for you. Then, it's time to talk about how to fund that plan, which may or may not include long-term care insurance or some alternatives. 
Long-term care insurance is a specific type of insurance that will reimburse qualified medical care providers for care that they provide, so long as the insured meets the criteria defined in the policy, usually that they are unable to perform two out of six "Activities of Daily Living," such as feeding themselves or dressing themselves. Policies that specifically pay qualified medical care providers directly, do not provide funds for things such as paying a landscaping service or making modifications to a home. For someone aging-in-place, the funds for those things would have to come from other places. There are alternatives, known as hybrid products that were built on an annuity or life insurance and provide a comparable benefit to long-term care policies. Those products have more flexibility in terms of what funds can be used for. Some of them are specifically designed for people who want to age-in-place. 
The best age to consider a long-term care or hybrid product is from age 55 to 65. Buying coverage too early can mean that you'll pay years and years for coverage that most people need when they're in their 70s or older. Waiting too long or waiting until you've been diagnosed with an affliction can leave you without coverage. 
I recommend (strongly) that you visit care facilities in your area. Ask for a tour. Get an understanding of their cost, the amenities and services they provide. Talk to some of the residents. As you go on the tour, pay as much attention to the people there as you do the facility. Ask about the wait list to get into the facility and the financial obligations just to come in the door. Ask what happens if you run out of money. Often, people are surprised at how long that wait list is. The very last thing you want to do is wait until you need to consider a facility before you investigate them. For LGBTQ+ people, connection with our community is often a strong consideration. Ask if the facility has affinity groups, meeting spaces, etc. It's a great idea to ask if they are SAGE-Certified. SAGE, the world's largest and oldest organization dedicated to improving the lives of LGBT older people, and the Human Rights Campaign Foundation (HRCF), joined forces to address these issues by launching the Long-Term Care Equality Index (LEI).
Today, there are 13 states (including North Carolina) that are considering some sort of tax on people who do not have long-term care coverage. They are concerned with the number of people who will need care and the strain that it could place on their Medicaid systems. I also recommended (also strongly) that you visit facilities that accept Medicaid.  Ask about the wait to get into a bed when someone is on Medicaid. Look at the facility, the people there, the food, the rooms. Keep in mind that Medicaid is only for people who have very little assets. Services and amenities there are minimal, at best, and residents have very few options. One of the best incentives that will encourage good planning is a visit to one of those facilities.
It is important to know about all of the options. This coverage can be expensive and it would be awful for someone to buy something with an incorrect expectation that it will provide certain benefits at one of the most difficult times of someone's life, only to find that they are not covered as they thought they were. That's why you need a real long-term care plan as opposed to going out and shopping for coverage and buying the cheapest one. 
This is the time to work with a financial planner, rather than a salesperson. Be sure the person is working as a fiduciary who will take the time to work through the plan to be sure that recommendations will meet your needs. Keep in mind that our population of people age 65+ will go from 52 million in 2018 to 95 million by 2060. That's a lot of people who will need care. Today, facilities have long wait lists and some can barely manage the residents they have. At the time when more of us will need care, the facilities that provide the best services and amenities will charge a premium.
As Ms. Davis said, old age ain't for sissies. A good, thoughtful plan with a holistic view can make all the difference.
To schedule a consultation, click here to find a day and time that will work best for you. If you prefer, call me at 704-459-4646 or email at frank.summers@ceterainvestors.com. 
Frank Summers, Certified Financial Planner™ and Accredited Domestic Partner Advisor™, and this is the #SpillTheTeaonLGBTFinances series. I work with clients across the US, and am physically located in Charlotte, NC. You can reach me at 704-717-8900, Ext 115 or by email at frank.summers@ceterainvestors.com